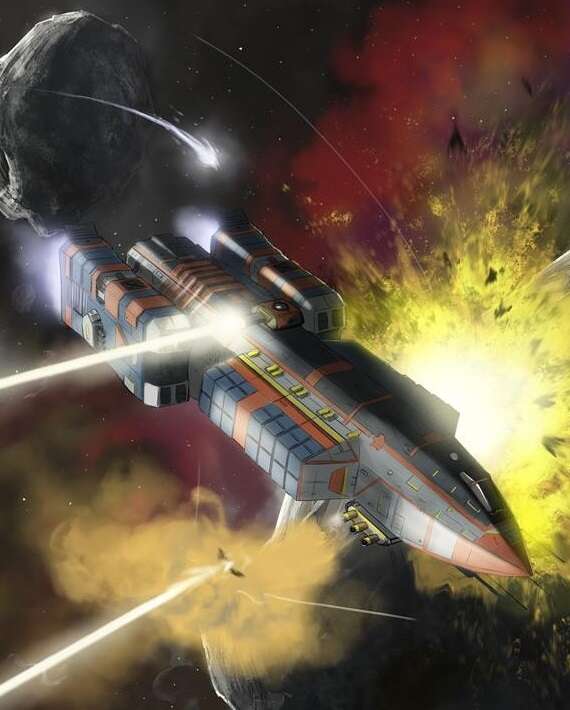 I received my first physical copies of the Gazelle Mini Ship Pack Tuesday.  Due to the interval between working on the cards and having them in hand and because this is our first foray into print on demand with Traveller, I had that feeling of new possibilities that I've felt playing other people's customizable card games.
While there may be a mini pack we put out where I would save talking about the new

until later, I need to start with the Gazelle.
Besides the promo Broadsword, this is the first

focused

published.  That feature drives the contents of the rest of the pack.
The Gazelle just sounds so good.  While intended to be the pinnacle of anti-piracy

in the game, given the current card pool, it's an obvious idea to see how good of a piracy strategy one can come up with running a

 that starts with both

 and

, a solid

Rating, two

and two

slots.
The two big drawbacks in its weight class are limited

slots and only one

slot.  The single

slot is notable in that loading up on RVD Overtuned Thruster Plates doesn't make a lot of sense like it does for some piracy decks, while

pursuing decks that may want something like Modular Hold run into what the Type S Scout faces with

 constraints without having the Scout's ability to pay nothing for Bwap Advisors.
I am quite fond of the Warfare special ability.  Besides expanding trait use in the game, the existing Warfare cards have solid synergies with pro-piracy or anti-piracy.  Not exactly surprising, to be sure, but still worthy of investigation.
I've been playing against piracy decks a lot this year.  Dance Among the Heavens is an expected play for several reasons.  Piracy decks are already running Tactical Display, thus running crew with

.  Forcing a two card discard is both disruptive to current plans and provides additional economic pressure for a bankruptcy strategy.  Then, getting ahead on

turns on the

bonus from RVD Overtuned Thruster Plates for you and turns it off for others.
Already mentioned Tactical Display as a piracy staple, but the synergy with

appears again with Prey on the Weak.  Predatory Tactics is another common play that gains additional value as piracy decks also spend lots of

, potentially quite a bit from the

tax.  Strategic Serenity is another way to make bigger attacks.
But, every single method of increasing

and/or

has application against piracy.  I have a deck that runs Tactical Display as an anti-piracy play. While I'm not running Prey on the Weak to defend against piracy, Defensive Mines and Glancing Shot have both shown up in my non-piracy decks.
Before segueing, just want to note that Aggravated Assault has been known to show up in piracy decks as

control plays help slow down

-oriented decks.
So, there's another Captain's Deck Warfare card that arrives the same time Gazelle does.  Want serious

? Gazelle plus two times RVD Superdense Armor is a massive static

that makes all of your

difficult to remove thanks to Hardened 2.  While I'm sure piracy players will try out being Superdense, the reason for this

was to give more options for defending against piracy.  Let us know whether you think the balance is right with

versus

.
Drop Capsules has more history than most cards.  Went through pretty significant changes due to being around longer as an idea.  A way for any deck to generate

, perhaps want to use a cost reducer when putting it into play if that's the primary purpose you put it to.
Not much point in putting out ships with

without also putting out more adventure cards that use

.  Red Team and Weapons Testing came out of plans for other ships. Red Team is the straightforward adventure card that encourages a commitment to

.  Weapons Testing is easier for ships without

to interact with, but has a complication side that attention should be paid to. Rhal'Kais Corsairs is not the same as Luxury Tax.  Many a time, the only impact of Luxury Tax in my games has been to reveal cards to opponents. Rhal'Kais Corsairs is more likely to hit captains' hands.
A five card set isn't going to accomplish everything, and we hope to expand on

in the future.  But, we hope that even just with these cards that your options have been expanded mightily.
One last thing to keep in mind is that the Gazelle's place in the game will evolve as other cards get published, in particular as more

come out … assuming everyone doesn't just run Gazelle piracy all the time.