Traveller Resources
Information on the Traveller RPG and its official setting, the Third Imperium.
We're not the only ship on the mains!  Since its introduction in 1977, the Traveller universe has been developed in RPGs, computer games, novels and board games.  There are a lot of great resources for learning more about the Third Imperium.  Here's just a few:
Far Future Enterprises is run by Marc Miller, the original author and creator of Traveller.

Far Future Enterprises
The Citizens of the Imperium is the largest Traveller community on the internet, and a great place to learn more about the game and its official setting, The Third Imperium
Citizens of the Imperium
An excellent resource compiled and maintained by Joshua Bell, the Traveller Map is the easiest way to navigate the Third Imperium. There's no better way to appreciate the scale of Traveller.

The Traveller Map
Mongoose Publishing produces a flexible and popular version of the Traveller rules set, and their "Third Imperium" product line further expands the official universe.

Mongoose Publishing
The Imperial Encyclopedia is a wiki-style compilation of Traveller information. Articles are submitted and maintained by individual users, and cover both the official canonical universe as well as alternate setting or unofficial materials.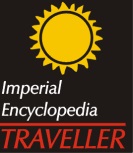 The Imperial Encyclopedia
The Freelance Traveller Magazine is a long running, bi-monthly fanzine. Each issue features excellent articles on a wide variety of subjects, alternate rules, new settings and product reviews.

Freelance Traveller Magazine
Have a resource for the Traveller community? Drop us a line!